Through community science, we help scientists answer questions they cannot answer without our help. When we engage in community science, we make and share observations, analyze data, begin to formulate questions, experiment, and ultimately construct a deeper understanding about the world, all while advancing important areas of scientific research!
You don't need to be a scientist to participate in science. Throughout history, important discoveries about the natural world have been made by community scientists—like you—with a keen eye for observation and a passion for nature.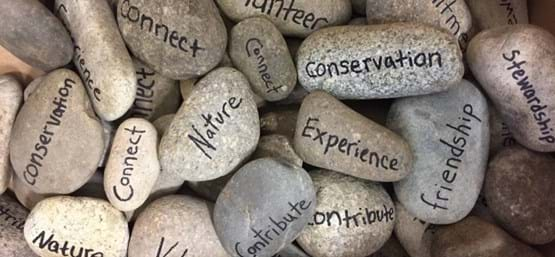 Projects
Bee Watch: Observe bees and other pollinators to promote conservation and learn more about native species in our area. Using iNaturalist, you will be identifying pollinators and their location, conduct stationary surveys at bee boxes and take pictures of what you see. No experience is needed! 
Stream Selfie: Help build the first-of-its-kind national map of streams. Volunteers take a picture of a local stream (the selfie part is optional) and submit observations online to help scientists build a national map of streams and assess the health of every stream in the United States. See what streams have been identified near you and learn how to protect your local stream.
iNaturalist: Record and share images of biodiversity all around you and learn about the natural world. Using iNaturalist, you can join a crew of community scientists who share observations of nature, collaboratively identify species, and share data with scientists.
ISeeChange: The ISeeChange project is a global community that documents local changes in environment, weather and climate. Each post is synced with weather and climate data, which is broadcast to the community to investigate bigger picture climate trends. Community members use this information to track climate changes over time and how this impacts daily life.
Globe Observer – Trees: The Global Learning and Observations to Benefit the Environment Program (GLOBE) app includes four protocols that connect people to real NASA science. The Trees protocol can be used to report tree height measurements that complement NASA satellite observations to help scientists studying Earth, carbon ecosystems and the global environment.
Events
BioBlitz: is an event that focuses on finding and identifying as many species as possible in a specific area over a short period of time. At BioBlitz, scientists, families, students, teachers, and other community members work together to get a snapshot of an area's biodiversity. These events can happen in most any geography—urban, rural, or suburban—in areas as small as a backyard or as large as a country.
IDAH2O Master Water Stewards:  The IDAH2O Master Water Stewards program is a volunteer, citizen scientist effort to collect basic water quality data for streams. The program is offered around the state through University of Idaho Extension to provide a unique opportunity to learn about and document regional water issues. The WaterShed hosts a local workshop each summer.
Watershed Watch: Watershed Watch is a one-day science event for 4th- 6th grade students in the Treasure Valley to help gather data about the health of the Boise River.