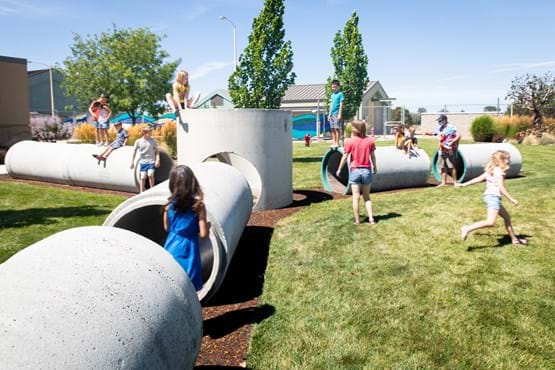 Our Mission
Increasing water and climate change awareness and inspiring action by teaching people of all ages how to protect and conserve our precious natural resources for future generations.
We achieve our mission of engaging the community in conversation and action through exhibits, programs and public art.
Water
The WaterShed gives visitors a sense of place in the Boise River Watershed, highlighting the essential resource that defines the Treasure Valley. The exhibits, tours and programs also educate and engage residents on the importance of Boise's Water Renewal Services, the city's water renewal (wastewater) facility. Learn more about how the utility plays a key role in protecting human health and ensuring clean water for our community and environment.
Climate
The City of Boise is committed to taking government and community action by collaborating with local partners, businesses and individuals to move the needle on climate change. The city has set a climate action goal to be carbon neutral by 2050.  The WaterShed engages visitors of all ages on raising awareness and inspiring action to help meet the goals laid forth in the Climate Action Roadmap.
Our Facility
The WaterShed was designed and constructed using green building practices and serves as a teaching tool about sustainability. By meeting performance benchmarks in energy and water efficiency, the WaterShed achieved a Gold LEED certification. Special features of the facility include:
Use of reclaimed water in the toilets and HVAC system
Waterless urinals and water-efficient sinks and toilets
Landscape design to reduce heat islands, including a partial green roof
Permeable paver parking lot to reduce stormwater pollution
Water-wise landscape and pollinator gardens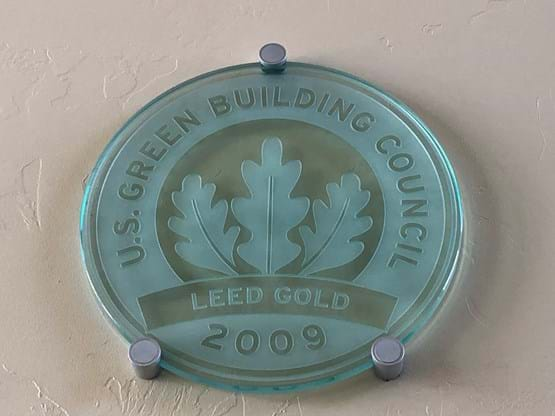 Our History
Discussions around the Boise WaterShed started in the 1990's to fill a need for public education around our local water resources and city water renewal services. Donna-Marie Hayes, a Public Works Commissioner, was appointed to lead a community drive to fund the development of educational exhibits. In 2005, she founded the non-profit Boise WaterShed Exhibits, Inc. In 2008, BWE reached their goal of $1 million thanks to community leaders, organizations, and corporations who recognize the importance of the critical message the Watershed delivers.
Funding for the $2 million green building construction in 2008 was paid for by the City of Boise Water Renewal Enterprise Fund. The water renewal enterprise fund is funded by user fees from residents and businesses connected to the sewer system. There were no tax dollars used for the WaterShed.
Since opening in May 2008, the WaterShed has served over 265,000 people, both on location and off-site in classrooms and at events.
2022 is truly a watershed moment at the WaterShed - a turning point in which the education center will begin to raise awareness of one of the most important issues of our time - climate change - and how the city is taking action to ensure we are resilient to the impacts.  
Partners
The WaterShed works with numerous partners to educate the community about environmental issues. We are a member of Boise Environmental Education, a consortium of City of Boise partners who provide community education: Jim Hall Foothills Learning Center, Boise Urban Garden School, Zoo Boise and Community Forestry.