Welcome to Project WET for SW Idaho!
The WaterShed is a regional host of Project WET. 
Established in 1984, Project WET is water education for Pre-K-12 teachers, informal educators and community members. The mission of Project WET is to advance water education to understand global challenges and inspire local solutions.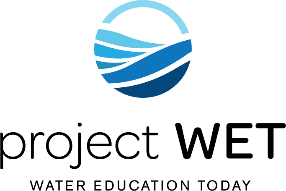 Project WET offerings:
Attend a WORKSHOP: Formal and informal educators, pre-service teachers, and community members can participate in Project WET workshops and receive a curriculum guide of their choice.
Check out KITS: Borrow free education kits and models through the WaterShed.
Connect to the PORTAL: Access additional activity resources and information using the special code inside your Curriculum Guide 2.0
Connect to DISCOVER WATER: Use this free site with students to give them an interactive way to better understand our water resources.
Connect to NATIONAL PROJECT WET: Visit the store, sign up for an online workshop, and see recent news.
Educator Workshops
Workshops train educators and community members on diverse water topics to promote water awareness. The registration fee for all workshops is $40, unless otherwise noted. Participants will receive an activity guide of their choice containing Project WET water education activities.
Optional professional development credit for educators is available through Boise State University or Northwest Nazarene University. An outside assignment is required for those who are taking the workshop for credit. Participants register and pay $60 per credit online at the respective university website. A credit registration link will be emailed to participants before the workshop.
Project WET Curriculum and Activity Guide 2.0 training (virtual)
This on-line training produced by the National Project WET office gives educators information about Project WET and leads them through activities from Guide 2.0. It also includes required workshop components such as practice teaching, information on educational standards related to the activities and internet resources, all in a self-paced interactive format. Halfway through the training, you'll connect with your state Project WET Coordinator to learn about local resources. At the completion of the 6-hour training, educators will receive a print copy of the Project WET Curriculum and Activity Guide 2.0, which contains 64 activities, and certification as a Project WET educator.
Cost $59.95. Pay an additional $60 and complete additional pre- and post-activities to earn 1 P.D. credit through U of I.
Email the WaterShed for credit information. Access Code: 129P11
Check back soon to view our summer in-person workshop offerings.