Welcome to Project WET for SW Idaho!
The WaterShed is a regional host of Project WET. 
Established in 1984, Project WET is water education for Pre-K-12 teachers, informal educators and community members. The mission of Project WET is to advance water education to understand global challenges and inspire local solutions.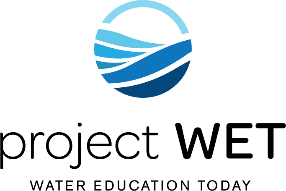 Project WET offerings:
Attend a WORKSHOP: Formal and informal educators, pre-service teachers, and community members can participate in Project WET workshops and receive a curriculum guide of their choice.
Check out KITS: Borrow free education kits and models through the WaterShed.
Connect to the PORTAL: Access additional activity resources and information using the special code inside your Curriculum Guide 2.0
Connect to DISCOVER WATER: Use this free site with students to give them an interactive way to better understand our water resources.
Connect to NATIONAL PROJECT WET: Visit the store, sign up for an online workshop, and see recent news.
Educator Workshops
Workshops train educators and community members on diverse water topics to promote water awareness. Participants will receive an activity guide of their choice containing Project WET water education activities.
Optional professional development credit for educators is available through Boise State University or Northwest Nazarene University. An outside assignment is required for those who are taking the workshop for credit. Participants register and pay $60 per credit online at the respective university website. A credit registration link will be emailed to participants before the workshop.
Idaho Ecosystems with Project WILD, WET and PLT
In this interactive virtual class, receive training and award-winning materials from Project WILD, Project WET and Project Learning Tree, with which you will engage upper elementary students in learning about Idaho ecosystems. The class includes three synchronous Zoom sessions, with most course work done separately on your own. For part of the class, you will choose one of the curricula (WILD, WET or PLT) to explore in more depth and will receive that program's comprehensive activity guide(s). You will leave the course with plans to use materials from the course with students, whether teaching in the classroom or remotely, both indoors and out.

CREDIT: One (1) optional professional development credit (for recertification) is available from your choice of Northwest Nazarene University or Boise State University, $60 payable to the university.
Two workshops to choose from!

Fall 2023: October 24 - November 28; Zoom Sessions held on October 24, November 14 and November 28 from 7-8:30 pm (MT)
Register & Pay $45

Winter 2024: February 13 - April 2; Zoom sessions held on February 13, March 12 and April 2 from 7-8:30 pm (MT).

Register & Pay $45