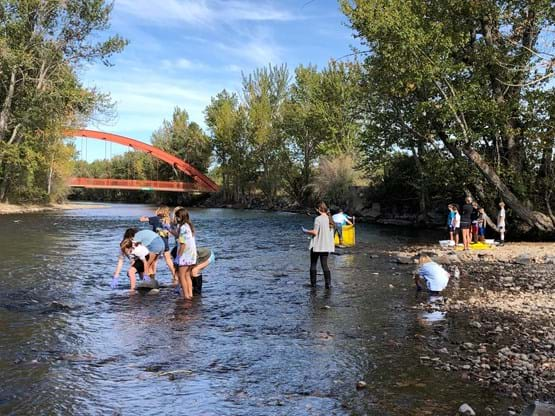 Watershed Watch is a one-day science event to help gather data about the health of the Boise River. The event takes place the fourth Thursday in September with upper elementary students in the Treasure Valley. We encourage any adults who wish to contribute to water quality data collection to attend an IdaH2O Master Water Stewards workshop and borrow our water monitoring kit.
Each upper elementary class is assigned an accessible site along the Boise River and is guided in hands-on water quality testing by water professionals from one of our partner organizations. Students wade into the river to test the chemical, physical and biological health of the Boise River by conducting tests and searching for macroinvertebrates (water bugs) and invasive species. Data from the sites is compiled and shared after the event to get a snapshot of the health of the Boise River. This event is a unique opportunity for students to do hands-on science in the field with local scientists and engineers.
In 2020, we offered Watershed Watch as a virtual program – the information and videos remain on this website (see below) for any who wish to use it.
Please contact us if you have questions about the program.
Data
2021
2020
Historical
Virtual WaterShed Watch
Is the Boise River Healthy?
Explore the Boise River virtually through videos and worksheets below to assess the health of the Boise River. 
Week 1: How Does Water Management on the Boise River Affect Water Quality?
Week 2: Temperature and Turbidity
Watch Week 3: Invasive Species 
Watch Week 4: Organisms in the River
Watch Week 5: Nutrients
Watch Week 6: Environmental Engineering 
Watch Week 7: Rules and Regulations
Watch Week 8: Lab Analysis
2022 Sponsors
City of Boise
City of Meridian
City of Caldwell
Idaho State Department of Agriculture
Idaho Department of Environmental Quality
Intermountain Bird Observatory
Partners for Clean Water
Veolia
United States Bureau of Reclamation
United States Geological Survey