About our partnership: NASA's Earth to Sky network, the WaterShed and the University of Idaho have partnered together to form ETS-Idaho. Through free access to information and education, we hope to inspire climate conversations in our community.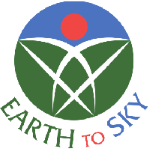 Connect to climate scientists from the comfort of your kitchen table with our Webinars!
Since 2020, ETS Idaho has hosted webinars to connect Western educators and science communicators with leading-edge climate science. We believe that providing a space to ask questions, spark conversations, and encourage community-building is as empowering as access to scientific concepts. In our webinar series, we speak with experts on local climate impacts and explore questions like: How can Indigenous Science inform our water management strategies? How can we use storytelling to help Idahoans understand their relationship to wildfire?
Feel free to explore our Recharge! and Ignite! series below.
---
Past Webinars
Recharge! Connecting Water Science and Educators to Create a More Buoyant Idaho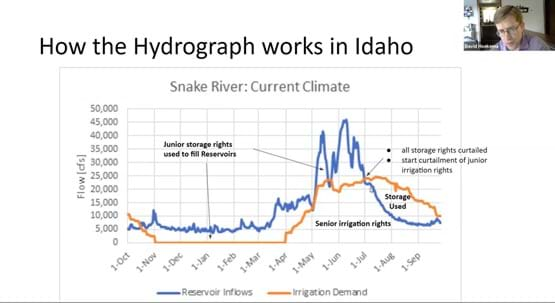 Keeping Idaho's Head Above the Water: Cloud Seeding, Aquifer Recharge, & Innovative Water Approaches
October 2021
Dr. David Hoekema joins ETS to discuss the history of water rights in Idaho, and how changes in our aquifers will impact these rights.  Unexpectedly, as our irrigation canals have become less leaky and our sprinklers more effective, less water spills out to recharge underground aquifers. Combined with warming temperatures, we are seeing less water in our aquifer. Dr. Hoekema explains how Idaho's cloud seeding technology and managed recharge may help us stay buoyant in a time of water scarcity.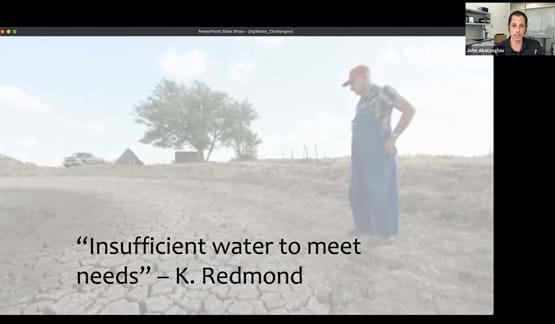 Parched: Can We Create Drought-Adapted Agriculture?
November 2021
Dr. John Abatzoglou joins ETS-Idaho to discuss drought's far-reaching impacts on the West. He details how our agriculture may be impacted by drought and what we can do to prepare. Will Idaho be the country's center of almond production? We explore our climate analogues, what we may be able to produce, and what might happen to our snow out West.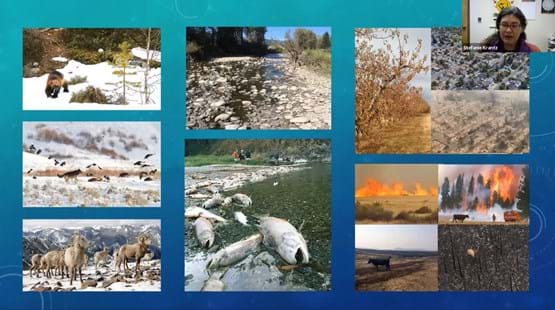 Refreshing our Perspectives: Old & New Ways of Water Management
November 2021
Stefanie Krantz, Climate Change Coordinator for the Nez Perce tribe, joins ETS Idaho to discuss the link between soil health, water resilience and biodiversity. Krantz leaves ETS with abundant resources to continue learning from Indigenous science. As Indigenous people lead the way in climate change planning, this knowledge is invaluable.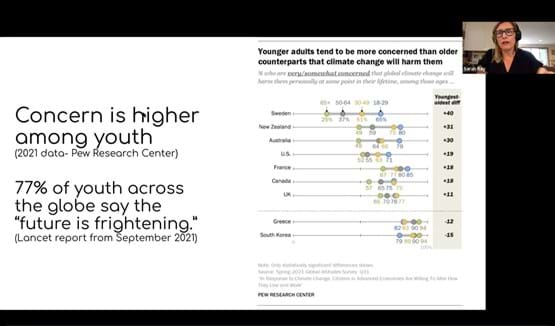 Creating Buoyant Students in a Time of Climate Anxiety
December 2021
Professor of Environmental studies and author Dr. Sarah Ray joins ETS-Idaho to discuss the importance of centering emotions in climate change education. In a time where 77% of surveyed youth around the globe say "the future is frightening" (Lancet Report, 2021) educators, community members, and science communicators must learn to work with these feelings, rather than suppress them.  Watch this for a toolkit!
Ignite! Sparking the Conversation Between Fire Scientists and Educators in Idaho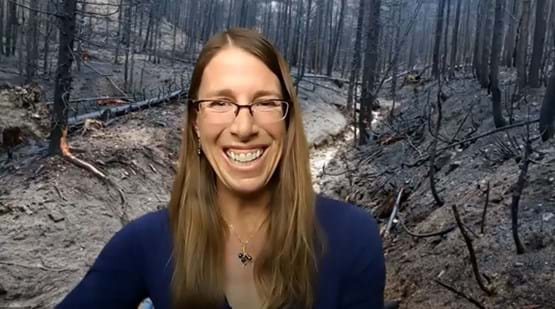 Fanning the Flames: Connecting the Dots Between Global Environmental Change and Shifting Fire Regimes in Idaho
March 2021
In this session, guest presenter Dr. Jen Pierce addresses the connections between global environmental change and the changing nature of fire in Idaho. Dr. Pierce focuses on rising temperatures, longer fire seasons, economic impacts of fire, and how fire increases atmospheric carbon dioxide levels.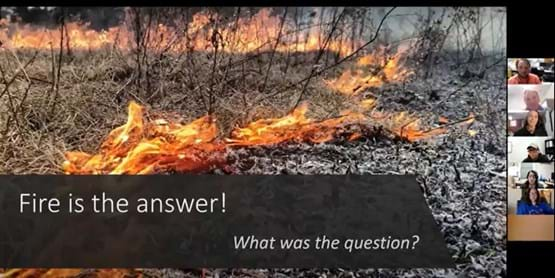 Blazing the Trail: How Do We Learn to Live Well with Fire in Idaho?
April 2021
In this session, Heather Heward explores how historic and contemporary relationships between humans and fire in the Western United States have contributed to trends of larger and more severe fires in the region—and how we might relate to fire more effectively in the future. Heward educates ETS Idaho on prescribed burning and communicating on the changing nature of fire.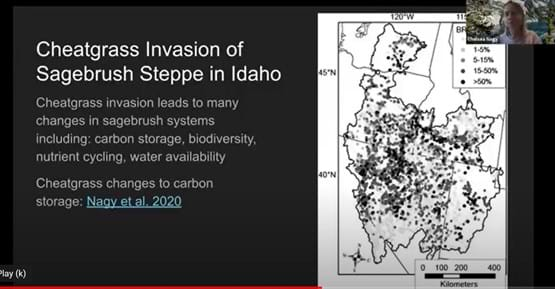 Out of the Frying Pan, into the Fire: Invasive Species, Climate Change and Fire in Idaho
April 2021
In this session, Dr. Chelsea Nagy focuses on the relationships between fire, climate change and invasive species, highlighting the complexities of these interconnections in Sagebrush Steppe ecosystems. In the second half of the session, Dr. Nagy introduces a management framework for conservation of the Sagebrush Steppe area.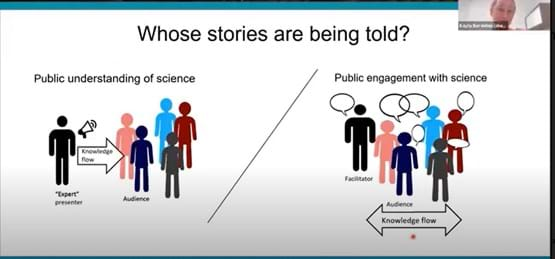 Fire In My Belly: Sharing Idaho's Stories of Fire in Place-Based Education Programs
April 2021
Dr. Kayla Bordelon is a former National Park interpreter who researches Science Identity. In this session, she guides us through how to use audience stories in educational settings. ETS-Idaho is guided through a process to create our own "Stories of Fire".