The WaterShed Education Center will be closed for the 2023 - 2024 school year. Outdoor education and outreach programs are available.
This school year the WaterShed is transforming into a climate and water science center! The exhibit hall will be closed for renovation September 2023 - Summer 2024. During this time, our education staff will offer limited on-site field trips and outreach programs at your facility.
Outdoor lessons and tours will be conducted in the River Campus, the Water Renewal Facility and the Boise River. Outreach lessons to schools in Boise and West Ada school districts are also available September - May. Home schools may make a reservation for a self-guided visit at the River Campus or we offer home school programs on select days.
Cost: Free; Bussing reimbursement is available for the 2023 - 2024 school year. Apply
Group size: Field trips are available for groups of 10 to 60 students per visit. The WaterShed requires at least one chaperone for every ten students.
Reservation Window: Reservations are required at least two weeks in advance and can be held up to a year ahead of time. Field trips are in high demand in the spring.
Field trip times: Field trips are booked Tuesdays, Thursdays and Fridays from 8 a.m.– 4:30 p.m. The typical visit is 1 to 3 hours in length. If your field trip spans lunch time, we are happy to add a lunch time into your schedule and you may eat at the covered picnic tables.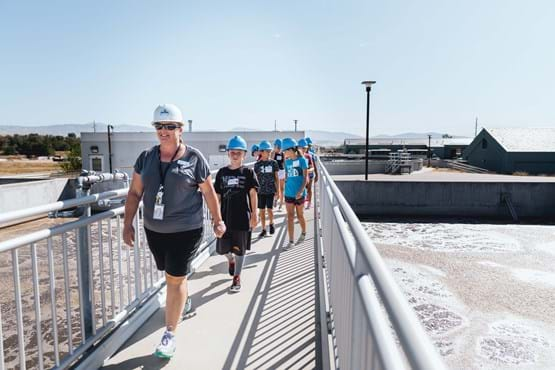 Steps to schedule a field trip with us:
Choose your grade level below and review the field trip menu.
Click on the lesson or tour that you would like to learn more about. (BWS = The WaterShed; Your Place = outreach to your school; Virtual = virtual lesson) By clicking the lesson or tour title, you'll be taken to the Boise Environmental Education web page to read a full description and to request it.
Click on the Request button located at the bottom of the lesson or tour description. Note: multiple lessons and tours can be requested in one visit. Most lessons and tours are one hour in length.
Submit the form with information about your group size and grade, preferred dates/times and any other details you'd like to share about your group.
You'll hear from WaterShed staff within a few days.  Field trips can be customized to meet your needs.  We look forward to your visit – thank you for your interest!
Lessons
Pre-K
Preschool Free Play – Self guided. Students can play and explore in our River Campus, Nature Play Area or Exhibit Hall. You are also welcome to borrow one of our Pre-K Activity Backpacks; you will find several games and activities for your Pre-K students, as well as some free-play suggestions to have fun while you're visiting!
---
Kindergarten & Grade 1
Get in Touch with Nature - Students will explore and investigate living and non-living things while learning about local wildlife in the riparian zone at the Boise River. BWS
River Campus Tour – March - October only. Experience the River Campus: splash in the simulated river and explore nature play stations to learn about our watershed. Backpacks with games and activities are available to borrow during your visit. (free-play/self-guided). BWS
Macroinvertebrate Mayhem – April - September only. Students will hike to the Boise River and wade in to collect macro-invertebrates (water bugs) to learn about how they may indicate a healthy or polluted river. BWS
---
Grade 2
Get in Touch with Nature – Students will explore and investigate living and non-living things while learning about local wildlife in the riparian zone at the Boise River. BWS
River Campus Tour – March - October only. Come and experience the River Campus, splash in the simulated Boise River and explore nature play stations to learn about our watershed. BWS
Watershed Investigators –​ Students will participate in hands-on activities to understand where water is located on earth, how water can be found in three forms and what a watershed is. Your Place
Macroinvertebrate Mayhem – April - September only. Students will hike to the Boise River and wade in to collect macro-invertebrates (water bugs) to learn about how they may indicate a healthy or polluted river. BWS
---
Grade 3
River Campus Tour – March - October only. Come and experience the River Campus, splash in the simulated Boise River and explore nature play stations to learn about our watershed. BWS
Watershed Investigators – Students will participate in hands-on activities to understand where water is located on earth, how water can be found in three forms and what a watershed is. Your Place
Macroinvertebrate Mayhem – April - September only. Students will hike to the Boise River and wade in to collect macro-invertebrates (water bugs) to learn about how they may indicate a healthy or polluted river. BWS
Weather Science – Students will understand what creates weather and make some observations of our local weather. Your Place
---
Grade 4
Explore Your Watershed – Students will make a watershed map and explore stormwater pollution. Your Place
River Campus Tour – March - October only. Come and experience the River Campus, splash in the simulated Boise River and explore nature play stations to learn about our watershed. BWS
Water Conservation: Every Drop Counts – Students will understand the importance of water conservation and take away simple ways to save water around their homes. Your Place
Macroinvertebrate Mayhem – April - September only. Students will hike to the Boise River and wade in to collect macro-invertebrates (water bugs) to learn about how they may indicate a healthy or polluted river. BWS
---
Grade 5
Explore Your Watershed – Students will make a watershed map and explore stormwater pollution. Your Place
River Campus Tour – March-October only. Come and experience the River Campus, splash in the simulated Boise River and explore nature play stations to learn about our watershed. BWS
Snow Science – Students learn the importance of snow in our watershed and investigate snow on a molecular level. Your Place
Water Conservation: Every Drop Counts – Students will understand the importance of water conservation and take away simple ways to save water around their homes. Your Place
Macroinvertebrate Mayhem – April - September only. Students will assess the water quality of the Boise River or near-by ponds by wading into the water to collect and identify macroinvertebrates. They will also complete a habitat assessment and use the information to better understand how natural and human impacts affect water and the aquatic ecosystem. BWS/Your Place
Water Renewal Facility Tour – Learn about the fascinating process of water renewal and how it helps protect water quality. BWS
---
Grade 6
River Campus Tour – March-October only. Come and experience the River Campus, splash in the simulated Boise River and explore nature play stations to learn about our watershed. BWS
Snow Science – Students learn the importance of snow in our watershed and investigate snow on a molecular level. Your Place
The Climate Change Connection – Exploring climate change through a systems approach, students will learn about the greenhouse gas effect, local impacts and solutions. Your Place
Water Conservation: Every Drop Counts – Students will understand the importance of water conservation and take away simple ways to save water around their homes. Your Place
Macroinvertebrate Mayhem – April - September only. Students will assess the water quality of the Boise River or near-by ponds by wading into the water to collect and identify macroinvertebrates. They will also complete a habitat assessment and use the information to better understand how natural and human impacts affect water and the aquatic ecosystem. BWS/Your Place
Water Renewal Facility Tour – Learn about the fascinating process of water renewal and how it helps protect water quality. BWS
Grade 7 - 8
Climate Stories – Students will explore what we can learn from stories, how we can listen to each other, and how to tell their own climate story. Your Place
Geothermal: The Heat Beneath Your Feet – Students will demonstrate where hot water comes from and why it rises to the surface in the form of geysers and hot springs. Your Place
River Campus Tour – March - October only. Come and experience the River Campus, splash in the simulated Boise River and explore nature play stations to learn about our watershed. BWS
The Climate Change Connection – Exploring climate change through a systems approach, students will learn about the greenhouse gas effect, local impacts and solutions. Your Place
The H2O Below – Get to know groundwater and its important role in our water supply. Your Place
Water Quality Field Experience – March - October only. Students will assess the water quality of the Boise River or ponds to better understand how natural and human impacts affect water and the aquatic ecosystem. BWS/Your Place
Water Renewal Facility Tour – Learn about the fascinating process of water renewal and how it helps protect water quality. BWS
---
Grade 9 - 12
Climate Stories – Students will explore what we can learn from stories, how we can listen to each other, and how to tell their own climate story. Your Place
Water Quality Field Experience – March - October only. Students will assess the water quality of the Boise River or ponds to better understand how natural and human impacts affect water and the aquatic ecosystem. BWS/Your Place
Water Renewal Facility Tour – Learn about the fascinating process of water renewal and how it helps protect water quality. BWS
---
College/Adult
Climate Stories – Students will explore what we can learn from stories, how we can listen to each other, and how to tell their own climate story. Your Place
Water Renewal Facility Tour – Learn about the fascinating process of water renewal and how it helps protect water quality. BWS